Stained Glass Windows at Little Mill Baptist Church in Willington, SC
in 2010, Laws Stained Glass Studios installed (12) new
opalescent glass windows
at Little Mill Baptist Church in Willington, SC. The ten main windows (size 32" wide x 62"high) each contained a
12" round Biblical scene
and a memorial plate. Six of the windows depicted a different scene from the life of Christ and four had symbols. The two smaller windows (size 24" wide x 38"high) did not have artwork or a memorial plate.
Laws began the installation by removing the existing wood sashes. Laws set the leaded glass window on the interior. On the exterior,
a 1/4" Lucite acrylic was installed as the
protective covering
. The outside wood frame was covered with white aluminum flashing.
View of the existing windows from the outside
Another view of the existing windows from the inside
Close-up of an existing windows from the outside
Close-up of a window from the inside
Opalescent glass windows with a 12" round Biblical scene and memorial plate at the bottom
Same window showing the white aluminum frame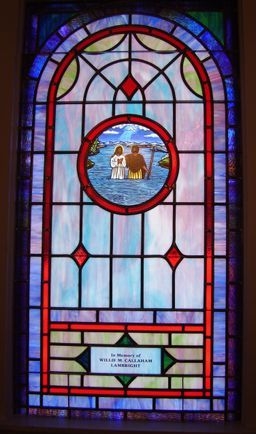 Opalescent glass window with a 12" round Biblical scene and memorial plate at the bottom
Another view of the opalescent glass window
Close-up of the 12" round symbol of the peace dove
Opalescent glass window with no artwork
Close-up of the installation from the outside with the flashed wood frame
Little Mill Baptist Church
230 Little Mill Church Rd
McCormick, SC 29835
230 Little Mill Church Rd McCormick, SC 29835