Stained Glass Windows at First Baptist Church in Tallapoosa, GA
From 2001 to 2003, Laws Stained Glass Studios installed (16) opalescent glass windows at First Baptist Church in Tallapoosa, GA. The ten large windows (size 60" wide x 164" high with a round top) each contained a large 38" x 85" pictorial scene made of hand-stained glass. The scenes depicted the life of Christ. Up the middle of the window and in the middle border, hand-stained tracery glass was designed. The windows were designed by Laws' designer Vincent Ketchie. The windows were cartooned and painted by Laws' artists, Nina Haynes and Teresa Nash. The three round windows (28" diameter) did not contain artwork. One transom (size 72" wide x 10" high) contained the church's name, and the two small transoms (size 48" wide x 10" high) did not have artwork.
Laws began the installation by removing the existing wood sashes. The leaded glass windows were installed into the existing wood frames. On the outside, Laws installed 1/4" Lucite acrylic as the protective covering.
Opalescent glass windows with large pictorial medallions
Close-up of the "Nativity" scene
Opalescent glass windows with large pictorial medallions
Opalescent glass window with large pictorial medallion
Opalescent glass window with large pictorial medallion
Opalescent glass window with large pictorial medallion
Smaller opalescent glass window with a 12" x 16" medallion
Opalescent glass window with large pictorial medallion
Close-up of the "Jesus Healing the Blind" window in the balcony area
Small round, opalescent glass window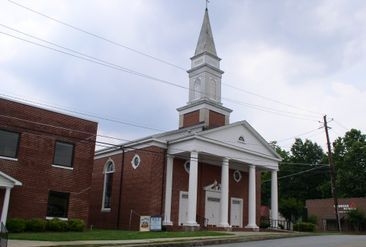 View of the church from the outside
11 W Lyon St. Tallapoosa, GA 30176