Cathedral Glass Windows at First Presbyterian Church in Monroe, NC
In 1969, First Presbyterian Church in Monroe, NC built a new sanctuary. The sanctuary was designed by the architect Chas. Morrison Grier of Charlotte, NC and Barger Construction Company of Mooresville was the contractor. Laws Stained Glass Studios provided the stained glass windows. Laws produced (9) large cathedral glass windows. The cathedral glass was hand-blown glass from Blenko Glass Company in Milton, WV. Laws also constructed the steel window frames.
The large window in the vestibule area is about 50 feet wide and 42 feet high. The design is abstract colors with symbolism. In the middle of the window are three crosses: the large center cross represents Christ's cross, the lighter cross to the left represents the one that was saved in the final hours, and the darker cross represents the other robber. Immediately under the cross of Christ, the ever flowing stream of living water from John 4 is symbolized. To the extreme right, the City of Jerusalem is a reminder that Christ came unto his own and they received him not. To the extreme left is the empty tomb of Christ. The Lord's Table has been illustrated by using the canopy as the table top with a bowl of fruit to your right. The chalice is slightly left of center and another bowl of food is to the extreme left. The two brown areas of glass coming down in the vestibule are the table legs.
The eight side windows are about 13-1/2 feet wide by 20 feet high. The windows on one side represent stories from the Old Testament and the windows on the other side symbolize the New Testament.
Throughout the years, Laws would return to replace broken pieces of glass. But in 2007, Laws installed 1/4" Lucite acrylic as the protective covering over the windows.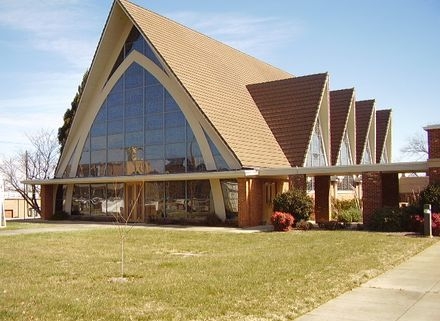 View of the sanctuary with cathedral glass windows and 1/4" Lucite acrylic as the protective covering
Exterior view of the large front window
Large vestibule window made of hand-blown cathedral glass
Another view inside the sanctuary
Side window with symbolism of "Birth and Early Ministry of Christ" including the "Nativity", "Flight into Egypt", "Christ in the Temple", "Baptism," "Temptation," and "Choosing the Disciples". Note how you can see the trees through the cathedral glass.
Another New Testament window representing the "Teaching and Healing Ministry of Christ" including the "Healing Power of Christ" (Cross Potent), "Healing the Blind" (the eye), "Raising the Dead" (pomegranates), and the four parables - the Sower, Wheat & Tares, The Good Samaritan, and the Vine and branches.
Cathedral glass window representing the "Great Commission" including Pentecost and the Triumph of the Gospel
Cathedral glass window of the Old Testament representing the "Exodus through Entry into Canaan"
Close-up of the hand-blown cathedral glass
Another close-up of the hand-blown cathedral glass
Hand-blown cathedral glass window
Another close-up of a hand-blown cathedral glass window
302 E Windsor St. Monroe, NC 28112