Stained Glass Windows at Kenly Missionary Baptist Church in Kenly, NC
In 1992, Laws Stained Glass Studios installed (11)
opalescent glass windows
at Kenly Missionary Baptist Church in Kenly, NC. The ten sanctuary windows (40" wide x 144" high with a round top) each contained a 20" x 32"
hand-stained glass medallion
with a symbol. These windows were installed into the existing wood frame. They did not receive protective covering.
Behind the pulpit, Laws provided a baptistry window (74" wide x 97" high) that has a floating figure of "Christ Come Unto Me". This window was installed on a sliding track so that it can be moved during a baptismal service. This window is backlit by flood lights provided by the church.
*Note that the photos were taken in 2007.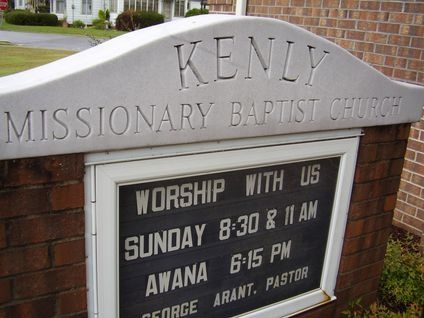 Sign out front of the church
Front windows from the outside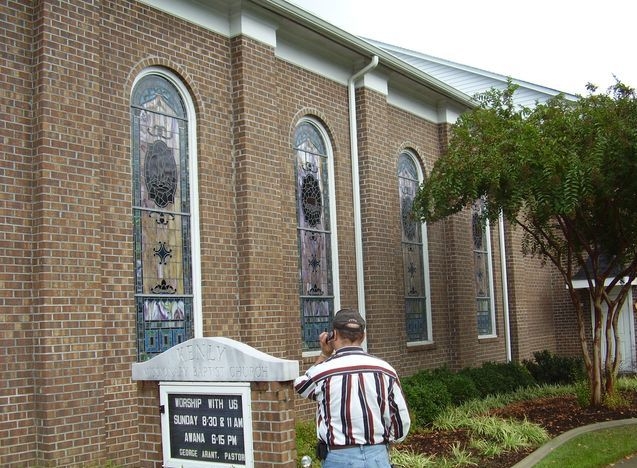 Opalescent glass windows set into the existing wood frame with no protective covering
Opalescent glass window set into the existing wood frame with no protective covering
Opalescent glass windows with 20" x 32" hand-stained glass medallions with symbols
Opalescent glass window with a 20" x 32" medallion with a symbol
Opalescent glass window with a 20" x 32" medallion with a symbol
306 E 2nd St. Kenly, NC 27542