Stained Glass Windows at Piney Grove Freewill Baptist Church in Fayetteville, NC
In 2015, Laws Stained Glass Studios provided (12)
opalescent glass windows
for Piney Grove Freewill Baptist Church in Fayetteville, NC. The ten sanctuary windows (size 30" wide x 60" high) contained a
12" round Biblical scene
and a memorial plate. The two front windows (size 48" wide x 96" high) have a cross in them along with a memorial plate.
The church had Krinkle glass (colored fiberglass) as their original windows. Laws removed the Krinkle glass and installed the opalescent glass windows into the existing wood frame. The outside wood perimeter was flashed with white aluminum flashing. Laws installed 1/4" Lucite acrylic on the exterior as the
protective covering
. The Lucite is caulked and floated in place with two rows of 1/2" x 1/2" white aluminum stop. 1" round vents were placed in the Lucite to allow for ventilation.
Existing window before the installation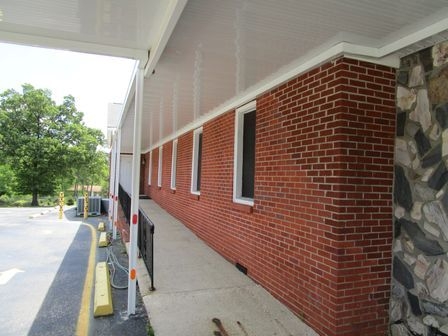 Outside view of the church before the installation
Close-up of the existing front windows from the outside
View of the existing Krinkle glass (thin fiberglass) windows from the inside before the installation
Opalescent glass windows with 12" round Biblical scenes and a memorial plate
Opalescent glass window, with a 12" round Biblical scene of "Come Unto Me" and one memorial plate, installed into the existing wood frame.
Close-up of the memorial plate section at the bottom
Opalescent glass windows with 12" round Biblical scenes
Close-up of a 12" round Biblical scene of "The Annunciation" with darker flesh tones
Opalescent glass windows with 12" round Biblical scene and a memorial plate
View of one of the cross windows at the front of the church
Picture of an opalescent window at the shop before it was installed
Exterior view of the opalescent glass windows with new 1/4" Lucite acrylic as the protective covering
Close-up showing where some rotten wood was replaced before it was flashed
Close-up of the 1/4" Lucite acrylic installation showing the exterior wood flashed with white aluminum flashing and the Lucite held in place with (2) rows of 1/2" x 1/2" white aluminum stop